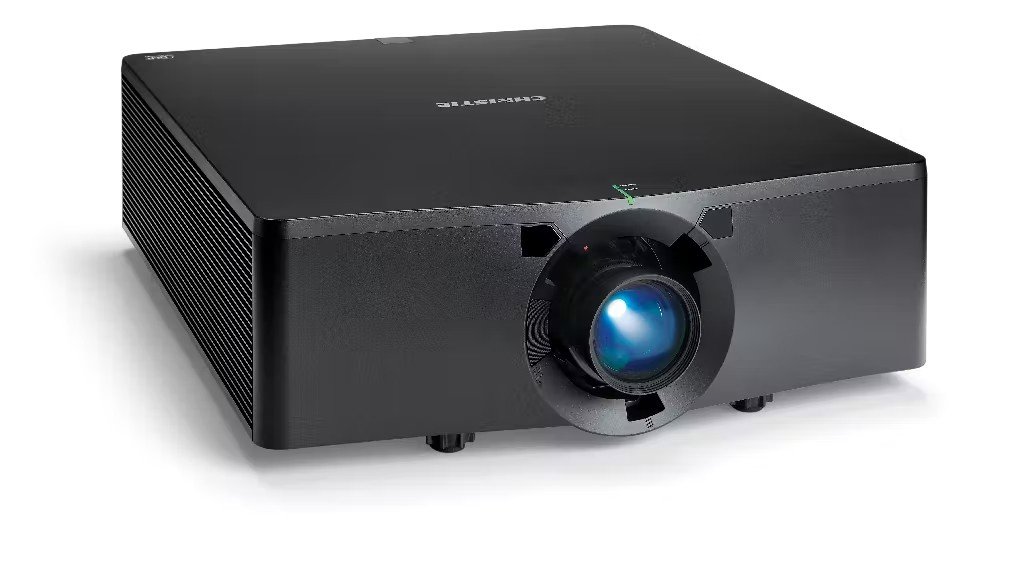 4K22-HS - (Black)
---
Interne referentie: CHR-171-066103-01

When you're looking to stand out from the crowd with bright, impressive visuals and you don't want to blow your budget, the 22,500-lumen, high-performance Christie® 4K22-HS is the perfect fit.
Your audience will enjoy incredible brightness and resolution, plus enhanced color performance from the brightest 4K UHD 1DLP® projector on the market. The 4K22-HS delivers deeper blacks and more natural and realistic onscreen visuals thanks to Christie BoldColor+™ technology.
Using onboard Christie Twist™ warping and blending, you can quickly and easily set up and align irregular screens and multi-projector displays. The option to add Christie Mystique™ automated camera-based alignment software lets you quickly stage, install, align, and recalibrate multi-projection systems in minutes.
And as if that wasn't enough, the 4K22-HS comes with a 5-year warranty and supports active and passive polarized 3D right out of the box.
Key features
High brightness– The first 4K UHD 1DLP projector on the market with 22,500 ISO lumens/19,000 ANSI lumens
Premium color – Christie BoldColor+ gives audiences enhanced color performance—with deeper blacks and more natural and realistic onscreen visuals.
Warping and blending – Make setup even easier with proprietary Christie Twist built-in for quick and easy setup of multi-projector displays
Compatible with Christie Mystique automated camera-based alignment and recalibration software that lets you quickly install, align, calibrate, and maintain multi-projection systems
Compatible with Christie Intelligent Camera (CIC) – Use CIC to trigger autofocus, automatically calibrate projector color, optimize color uniformity, and more
Advanced electronics deliver high frame rates for 4K UHD at 60 Hz and 1080p at 240 Hz
HDBaseT solution – Supports HD video streaming through RJ45
AMX and Crestron connectivity - For enhanced collaboration and easy integration into virtually any existing boardroom
Support for active and passive polarized 3D provides additional versatility
Full suite of lenses – Compatible with WUXGA HS Series lenses* including 0.65:1 to 10.8:1 and a 0.38:1 UST lens
Quiet operation – As low as 42dBA
Eco Mode – Reduces brightness to 50%, significantly extending the lifetime of your projector, and results in quieter operation
Full-range voltage support (100 to 240 VAC)– The system dims to 80% brightness when it detects 100-120 VAC power
TAA-compliant
5-year warranty
*The 4K22-HS is not compatible with the WUXGA 0.84-1.02:1 short zoom lens.
22,500

ISO lumens




19,000

ANSI lumens




3 Segment (RGB) - 4X speed

Color wheel




4,000,000:1* with Christie RealBlack™

Contrast ratio




6000:1

Dynamic contrast




1 x 0.95" DMD

Display type




Resolution

4K UHD (3840 x 2160)




Illumination type

Laser phosphor with Christie BoldColor+™ technology




Illumination performance (hrs)

20,000 hours to 50%




Scan rates

Horizontal: 15-91kHz Vertical: 24-240Hz




Pixel clock rate

600MHz




Signal i​nputs

Standard:
HDMI 2.0b x 2 (HDCP 1.4/2.2) (one on rear panel, one on bottom)
12G-SDI x 1 (BNC)
- DP x 1
- USB x 1 (Type A)
- HDBaseT (RJ45) x 1




3D inputs

- HDMI 1.4, HDBaseT – frame packed, top/bottom, side-by-side (up to 120Hz output); frame sequential @1080p up to 120Hz
- 3D sync in (BNC) – for genlocking projectors
- 3D sync out (BNC) – for genlocking projectors, or controlling emitter or polarizer
- Active shuttered and passive polarized stereoscopic 3D

Signal outputs

- 12GSDI x 1 (BNC)
- HDMI x1 (HDMI out




Control and networking

- HDBaseT (RJ45 x 1)
- RJ45 x 1 (Ethernet Control over wired network connection)
- RS232 x 1
- Remote in: 3.5mm stereo female (provides serial communications and power)
- Loop out available for daisy chaining
- DC JACK 12VDC, 200 mA




Warpin​g and blending

Standard:
- Christie Twist™
Optional:
- Christie Twist Premium and Twist Pro
- Christie Mystique™ automated camera-based alignment




Lens mount

- Boresight adjustable
- Motorized horizontal and vertical lens offset (memory available)
- Motorized zoom and focus adjustment (memory available for full ILS lenses)




Lens options

- 0:38:1 UST lens
Zoom/focus memory:
- 0.65-0.75 zoom lens
- 1.2-1.5:1 zoom lens
- 1.5-2.0:1 zoom lens
- 2.0-4.0:1 zoom lens
- 4.0-7.0:1 zoom lens
- 7.2-10.8 zoom lens
No zoom/focus memory:
- 1.02-1.36:1 zoom lens




Offsets for 0.38:1 UST lens

- +100/-55% Vertical
- +4/-28% Horizontal




Offsets for 1.02:1-1.36:1

- +124/-98% Vertical
- +40/-49% Horizontal

Offsets for full ILS Lenses

- ±140% Vertical
- ±50% Horizontal




Power requirements

Operating voltage:
- Normal mode: 220-240 VAC @ 50/60Hz
Power consumption:
- Normal mode: 1,553W
- Eco1 mode: 1,281W
- Eco2 mode: 806W
Operating current:
-Normal mode: 8.5A (220-240 VAC)




Dissipation

@220V:
- Normal mode: 5,295 BTU/hr
- Eco1 mode: 4,368 BTU/hr
- Eco2 mode: 2,748 BTU/hr




Audible noise

- Standard mode: 45dBA, Eco2 mode: 42dBA




Dimensions (L x W x H)

- 26.65 x 23.46 x 7.99" (677 x 596 x 203mm) without feet




Weight




Shipping dimensions (L x W x H)

37.99 x 31.30 x 14.37" (965 x 795 x 365mm)




Shipping Weight




Operating environment

- Temp: 0 to 40 C (32 to 104 F)
- Humidity: 10 - 85% non-condensing




Regulatory

- This product conforms to all relevant European directives, standards, safety, health and environmental concerns
- Directives: RoHS, REACH, WEEE
- Contact Christie for the timing of certifications: UL/CSA/IEC 60950-1 FCC Class A cTUVus CE FDA CCC KC PSE EAC BIS VCCI RCM Mexico BSMI




Limited warranty

- Five years parts and labor on the projector
- Five years or 20,000 hours parts and labor on the illumination system**
- Contact an authorized Christie representative for full details of our limited warranty