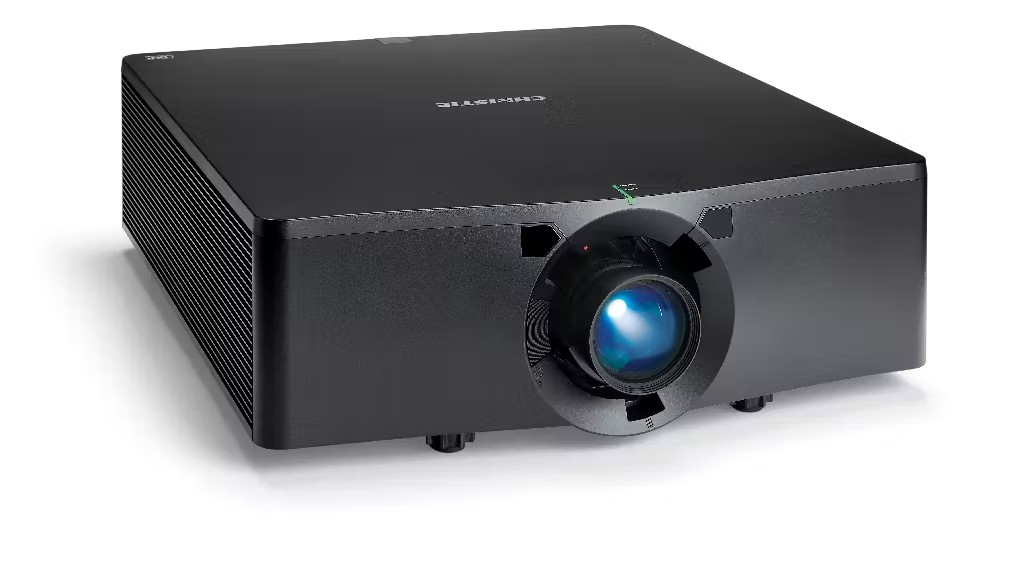 DWU23-HS - (Black)
---
Interne referentie: CHR-171-052108-01

No other 1DLP® laser projector has a better lumen-to-weight ratio. Achieving 23,650 lumens and weighing less than 92lbs (41.6kg), the Christie® DWU23-HS is the lightest and brightest 1DLP laser projector on the market. This performance powerhouse provides a viable alternative to similarly bright 3DLP® projectors.
Your audience will enjoy incredible brightness and WUXGA resolution, plus enhanced color performance—with deeper blacks and more natural and realistic onscreen visuals—thanks to our new Christie BoldColor+™ technology.
With built-in Christie Twist™, you can quickly and easily set up and align irregular screens and multi-projector displays. The option to add Christie Mystique™ automated camera-based alignment software lets you quickly stage, install, align, and recalibrate multi-projection systems in minutes.
And as if that wasn't enough, the DWU23-HS comes with a 5-year warranty and it supports active and passive polarized 3D right out of the box.
Key features
Premium color – Christie BoldColor+ gives audiences enhanced color performance—with deeper blacks and more natural and realistic onscreen visuals.
High value, high performance – With a long-lasting and reliable laser light source, this 23,650-lumen WUXGA-resolution projector is a cost-effective option for high-use applications
Support for passive polarized 3D provides additional versatility
Warping and blending – Make setup even easier with proprietary Christie Twist built-in for quick and easy setup of multi-projector displays
Compatible with Christie Mystique automated camera-based alignment and recalibration software that lets you quickly install, align, calibrate, and maintain multi-projection systems
Compatible with Christie Intelligent Camera (CIC) – Use CIC to trigger autofocus, automatically calibrate projector color, optimize color uniformity, and more
Compact form factor – Lightweight and with a small footprint, the new HS Series projectors are easy to ship, lift, and install
Quiet operation – As low as 35dBA*
Eco Mode – Reduces brightness to 50%, significantly extending the lifetime of your projector, and results in quieter operation
AMX and Crestron connectivity - For enhanced collaboration and easy integration into virtually any existing boardroom
Omnidirectional – Operates in any orientation for unlimited installation flexibility
Advanced electronics – Firmware updates take only minutes
Medical training capable – With DICOM simulation mode for advanced grayscale image reproduction, perfect for analyzing X-rays and medical scans for training purposes
TAA-compliant
5-year warranty
Specifications
23,650

ISO lumens




21,000

ANSI lumens




4 Segment (RGBY) - 2X or 3X speed

Color wheel




4,000,000:1* with Christie RealBlack™

Contrast ratio




6000:1

Dynamic contrast




1 x 0.96" DMD

Display type




Resolution

WUXGA (1920 x 1200)

Pixel clock rate

600MHz

Signal i​nputs

Standard:
HDMI 2.0b x 2 (HDCP 1.4/2.2) (one on rear panel, one on bottom)
- DP x 1
- USB x 1 (Type A)
- HDBaseT (RJ45) x 1
Signals:
- Horizontal and vertical scaling while maintaining aspect ratio (all inputs)

3D inputs

- HDMI 1.4, HDBaseT – frame packed, top/bottom, side-by-side (up to 120Hz output); frame sequential @1080p up to 120Hz
- 3D sync in (BNC) – for genlocking projectors
- 3D sync out (BNC) – for genlocking projectors, or controlling emitter or polarizer
- Active shuttered and passive polarized stereoscopic 3D

Signal outputs

- 3GSDI (BNC)
- HDMI x1 (HDMI out)

Control and networking

- HDBaseT (RJ45 x 1)
- RJ45 x 1 (Ethernet Control over wired network connection)
- RS232 x 1
- Built-in backlit keypad
- IR Remote
- 12VDC trigger at 200mA (ID:2.5mm)
- Remote in: 3.5mm stereo female (provides serial communications and power)
- Loop out available for daisy chaining
- DC JACK 12VDC, 200 mA

Warpin​g and blending

Standard:
- Christie Twist™
Optional:
- Christie Twist Premium and Twist Pro
- Christie Mystique™ automated camera-based alignment

Lens mount

- Boresight adjustable
- Motorized horizontal and vertical lens offset (memory available)
- Motorized zoom and focus adjustment (memory available for full ILS lenses)

Lens options

Zoom/focus memory:
- 0:38:1 UST lens
- 1.2-1.5:1 zoom lens
- 1.5-2.0:1 zoom lens
- 2.0-4.0:1 zoom lens
- 4.0-7.0:1 zoom lens
- 7.2-10.8 zoom lens
No zoom/focus memory:
- 0.65-0.75 zoom lens
- 0.84-1.02:1 zoom lens
- 1.02-1.36:1 zoom lens

offsets for 0.38:1 UST lens

- +100/-55% Vertical
- +4/-28% Horizontal

offsets for 0.84-1.02:1

- +108/-74% Vertical
- +29/-42% Horizontal

offsets for 1.02:1-1.36:1

- +124/-98% Vertical
- +40/-49% Horizontal

offsets for full ILS Lenses

- ±140% Vertical
- ±50% Horizontal

Power requirements

Operating voltage:
- Normal mode: 200-240 VAC @ 50/60Hz
Power consumption:
- Normal mode: 1604W
- Eco1 mode: 1284W
- Eco2 mode: 802W
Operating current:
- Normal mode: 8.5A (200-240 VAC)

Dissipation

- Normal mode: 5302 BTU/hr
- Eco1 mode: 4006 BTU/hr

Audible noise

- Standard mode: 44dBA, Eco2 mode: 36dBA (2x wheel speed)
- Standard mode: 45dBA, Eco2 mode: 39dBA (3x wheel speed)

Dimensions (L x W x H)

- 26.65 x 23.46 x 7.99" (677 x 596 x 203mm) without feet

Weight




Shipping dimensions (L x W x H)

37.99 x 31.30 x 14.37" (965 x 795 x 365mm)

Shipping Weight

Operating environment

- Temp: 0 to 40° C (32 to 104° F)
- Humidity: 10 - 85% non-condensing

Regulatory

- This product conforms to all relevant European directives, standards, safety, health and environmental concerns
- Directives: RoHS, REACH, WEEE
- Contact Christie for the timing of certifications: - UL/CSA/IEC 60950-1
FCC Class A cTUVus CE FDA CCC KC PSE EAC BIS VCCI RCM Mexico BSMI

Limited warranty

- Five years parts and labor on the projector
- Five years or 20,000 hours parts and labor on the illumination system*
- Contact an authorized Christie representative for full details of our limited warranty
- *Please reference the Christie Standard Limited Warranty document for details

Accessories

Standard:
- IR remote w/ wired remote jack (wire not included)
- AC line cord for projector
- Product Safety Guide
Optional:
- Christie One Mount Plus (140-117100-XX)
- One Mount Extender Rod (121-125109)
- One Mount Rigging Kit (used with One Mount, One Mount Plus Extender Rod) (121-126100-XX)
- Christie One Rigging Frame (140-113106-XX)
- Fog Filter with Frame (003-005714-XX)
- Fog Filter module (003-005715-XX)