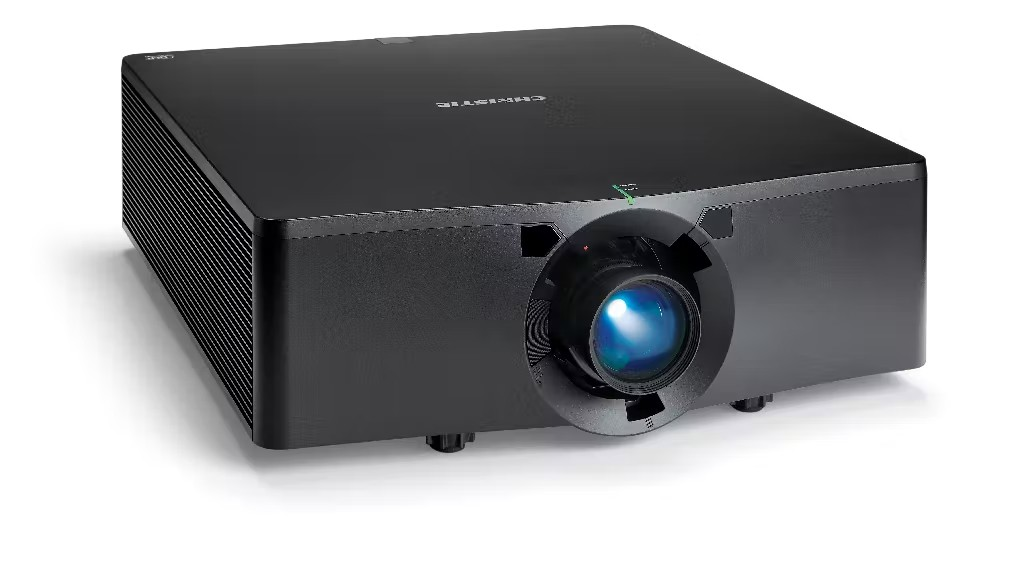 DWU15-HS - (Black)
---
Interne referentie: CHR-171-050106-01

Key features
Enjoy the freedom of unrestricted power. With 15,750 lumens, the Christie® DWU15-HS is the lightest and brightest 1DLP® laser projector to operate at full-brightness on a single 10A, 120V circuit. There's no need for high-power runs. Simply plug it into a standard 120V outlet and start the show!
Your audience will enjoy incredible brightness and WUXGA resolution, plus enhanced color performance—with deeper blacks and more natural and realistic onscreen visuals—thanks to our new Christie BoldColor+™ technology.
A long-lasting and reliable laser light source plus the affordability of 1DLP technology make this projector a cost-effective option for high-use applications. And for extra peace of mind, it comes with a 5-year warranty.
With built-in Christie Twist™, you can quickly and easily set up and align irregular screens and multi-projector displays. The option to add Christie Mystique™ automated camera-based alignment software lets you quickly stage, install, align, and recalibrate multi-projection systems in minutes.
Key features
Premium color – Christie BoldColor+ gives audiences enhanced color performance—with deeper blacks and more natural and realistic onscreen visuals.
High value, high performance – With a long-lasting and reliable laser light source, this 15,750-lumen WUXGA-resolution projector is a cost-effective option for high-use applications
Warping and blending – Make setup even easier with proprietary Christie Twist built-in for quick and easy setup of multi-projector displays
Compatible with Christie Mystique automated camera-based alignment and recalibration software that lets you quickly install, align, calibrate, and maintain multi-projection systems
Compatible with Christie Intelligent Camera (CIC) – Use CIC to trigger autofocus, automatically calibrate projector color, optimize color uniformity, and more
Compact form factor – Lightweight and with a small footprint, the new HS Series projectors are easy to ship, lift, and install
Quiet operation – As low as 35dBA*
Operate at full brightness on a single 110V circuit – Simply plug into a standard outlet and start the show!
Eco Mode – Reduces brightness to 50%, significantly extending the lifetime of your projector, and results in quieter operation 
AMX and Crestron connectivity - For enhanced collaboration and easy integration into virtually any existing boardroom
Omnidirectional – Operates in any orientation for unlimited installation flexibility
Advanced electronics – Firmware updates take only minutes
Medical training capable – With DICOM simulation mode for advanced grayscale image reproduction, perfect for analyzing X-rays and medical scans for training purposes
TAA-compliant
5-year warranty
15,750

ISO lumens







14,000

ANSI lumens







4 segment (RGBY) – 2x or 3x speed

Color wheel







4,000,000:1* with Christie RealBlack™

Contrast ratio




6000:1

Dynamic contrast




1 x 0.96" DMD

Display type




Resolution

WUXGA (1920 x 1200)




Illumination type

Laser phosphor with Christie BoldColor Technology

Illumination performance (hrs)

20,000 hours to 50%




Scan rates

Horizontal: 15-91kHz Vertical: 24-120Hz




Pixel clock rate

600MHz




Signal inputs

Standard:
- HDMI 2.0b x 2 (HDCP 1.4/2.2) (one on rear panel, one on bottom)
- 3G-SDI x 1 (BNC)
- DP x 1
USB x 1 (Type A)
- HDBaseT (RJ45) x 1
Signals:
- HDTV formats VGA through to WUXGA (1920 x 1200)
- Horizontal & vertical scaling while maintaining aspect ratio (all inputs)




3D inputs

- HDMI 1.4, HDBaseT – frame packed, top/bottom, side-by-side (up to 120Hz output); frame sequential @1080p up to 120Hz
- 3D sync in (BNC) – for genlocking projectors
- 3D sync out (BNC) – for genlocking projectors, or controlling emitter or polarizer




Signal outputs

- 3GSDI x 1 (BNC)
- HDMI x 1 (HDMI out)




Control and networking

- HDBaseT (RJ45 x 1)
- RJ45 x 1 (Ethernet Control over wired network connection)
- RS232 x 1
- Built-in backlit keypad
- IR Remote
- Remote in: 3.5mm stereo female (provides serial communications and power)
- Loop out available for daisy chaining
- DC JACK 12VDC, 200 mA




Warping and blending

Standard:
- Christie Twist
Optional:
- Christie Twist™ Premium and Twist Pro
- Christie Mystique™ automated camera-based alignment

Lens mount

- Boresight adjustable
- Motorized horizontal and vertical lens offset (memory available)
- Motorized zoom and focus adjustment (memory available for full ILS lenses)




Lens options

Zoom/focus memory:
- 0.38:1 UST lens
- 1.2-1.5:1 zoom lens
1.5-2.0:1 zoom lens
- 2.0-4.0:1 zoom lens
- 4.0-7.0:1 zoom lens
- 7.2-10.8 zoom lens
No zoom/focus memory:
- 0.65-0.75 zoom lens
- 0.84-1.02:1 zoom lens
- 1.02-1.36:1 zoom lens




offsets for 0.38:1 UST lens

+100/-55% Vertical
+4/-28% Horizontal




offsets for 0.84-1.02:1

+108/-74% Vertical
+29/-42% Horizontal




offsets for 1.02:1-1.36:1

+124/-98% Vertical
+40/-49% Horizontal




offsets for full ILS lenses

±140% Vertical
±50% Horizontal




Power requirements

Operating voltage:
- Normal mode: 100-240 VAC @ 50/60Hz
Power consumption:
- Normal mode: 1030W
- Eco1 mode: 824W
- Eco2 mode: 515W
Operating current:
- Normal mode: 5.5A (200-240 VAC), 10A (110 VAC)




Dissipation

@110V:
- Normal mode: 3242 BTU/hr
- Eco mode: 2532 BTU/hr
- Eco2 mode: 1617 BTU/hr
@220V:
- Normal mode: 3071 BTU/hr
- Eco mode: 2474 BTU/hr
- Eco2 mode: 1590 BTU/hr




Audible noise

- Standard mode: 38dBA, Eco2 mode: 35dBA (2x wheel speed)
- Standard mode: 39dBA, Eco2 mode: 37dBA (3x wheel speed)




Dimensions (L x W x H)

26.65 x 23.46 x 7.99" (677 x 596 x 203mm) without feet




Weight

Shipping dimensions (L x W x H)

37.99 x 31.30 x 14.37" (965 x 795 x 365mm)

Shipping Weight

Operating environment

- Temp: 0 to 40° C (32 to 104° F)
- Humidity: 10 - 85% non-condensing

Regulatory

- This product conforms to all relevant European directives, standards, safety, health and environmental concerns
Directives: RoHS REACH WEEE
- Contact Christie for timing of certifications: UL/CSA/IEC 60950-1
- FCC Class A cTUVus CE FDA CCC KC PSE EAC BIS VCCI RCM Mexico BSMI

Limited warranty

- Five years parts and labor on the projector
- Five years or 20,000 hours parts and labor on the illumination system*
- Contact an authorized Christie representative for full details of our limited warranty
- *Please reference the Christie Standard Limited Warranty document for details

Accessories

Standard:
- IR remote w/ wired remote jack (wire not included)
- AC line cord for projector
- Product Safety Guide
Optional:
- Christie One Mount Plus (140-117100-XX)
- One Mount Extender Rod (121-125109-XX)
- One Mount Rigging Kit (used with One Mount, One Mount Plus Extender Rod) (121-126100-XX)
- Christie One Rigging Frame (140-113106-XX)
- Fog Filter with Frame (003-005714-XX)
- Fog Filter module (003-005715-XX)